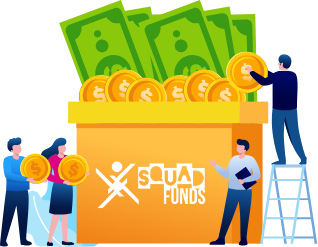 To build on our mission of "giving back" to our School Organizations and keeping costs low, SquadFunds relies on "word of mouth" marketing to grow. Existing SquadFund Organizations can receive a 2% referral bonus for simply recommending us to another organization!
Details
A "SquadFund's Organization" (ie. Organizations who have used the SquadFunds platform for an existing Fundraiser) who refers SquadFunds to another organization new to SquadFunds ("Referred Organization") will receive a referral bonus equivalent to 2% of that Referred Organization's first executed fundraiser (less platform and Credit Card fees).
In addition, the Referred Organization will also receive a 2% reduction in SquadFunds platform fees for their first fundraiser off the normal platform fee.
Win/Win for both!
Requirements
Referred Organization must be a 501c3 organization (ie Booster Club for Band, Sports Team, etc)
Referred Organization must be new to SquadFunds and be at a school or institution which has no existing SquadFund Organizations (ie School is new to SquadFunds)
Referred Organization must identify individual and SquadFunds Organization who referred them on the "Create a Fundraiser" signup form (simply fill out those fields)
If you have any questions about the program or which schools/organizations would qualify, please reach out to us!
Want More Information?
Reach out and request a demo or we can provide additional details.